香港大學馬詩帆教授及香港中文大學葉彩燕教授主講 「趣談廣東話」 "Cantonese Matters" Free Public Lecture (Cantonese) by Professor Stephen Matthews of the University of Hong Kong and Professor Virgina Yip of the Chinese University of Hong Kong Wednesday, July 11, 2018 2:00 – 3:45pm D217 Buchanan, UBC 1866 Main Mall, Vancouver BC V6T1Z2 公衆免費登記入場。截止日期:2018年7月9日。多謝支持! Registration is free and open to the public. If […]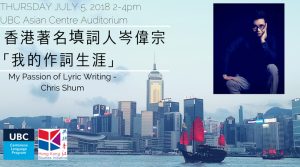 香港著名填詞人岑偉宗將於2018年7月5日星期四下午2至4時於卑詩大學亞洲中心演講廳向師生及公眾演説「我的作詞生涯」,分享多年來創作心得及趣事。機會千載難逢,萬勿錯過。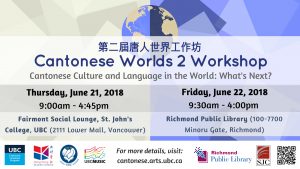 Cantonese Culture and Language in the World: What's Next?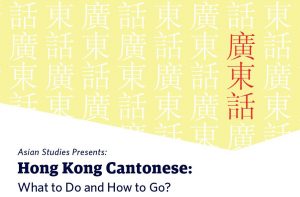 The goal of this talk is twofold: to review the major grammatical properties of Hong Kong Cantonese, particularly those that cannot be found in Mandarin, and to discuss how the Cantonese grammar can be made use of for the study of Chinese linguistics and language learning. It is hoped that the discussion may instigate some interest in Cantonese linguistics and to explore and pursue meaningful directions to meet future challenges facing the development of Cantonese.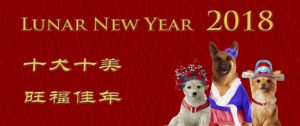 On February 9th, 2018, the Department of Asian Studies will be presenting our annual Lunar New Year Celebration! To celebrate this most important holiday in both Chinese and Korean cultures, we would like to sincerely invite you to come and enjoy our wonderful performances, great food, interesting hands-on activities, and a meaningful seminar. You will gain more cultural knowledge, make new friends, and win special prizes!