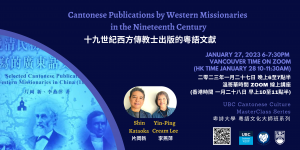 Cantonese Publications by Western Missionaries in the Nineteenth Century Shin KATAOKA Assistant Professor, Department of Linguistics and Modern Languages, The Education University of Hong Kong. PhD from the Chinese University of Hong Kong. Research interests in Cantonese grammar, Chinese and Western cultural exchanges during the period of western learning eastward. Yin-Ping Cream LEE Master in […]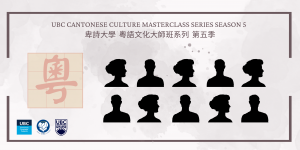 UBC Cantonese Culture MasterClass Season 5 is coming soon! 卑詩大學粵語文化大師班第五季即將開始!
Our 3rd annual Cantonese Fun Night is coming soon!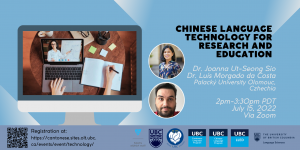 Guest Speakers: Dr. Joanna Ut-Seong Sio and Dr. Luís Morgado da Costa. Within this talk, our guest speakers will present a few current projects first with a focus on linguistic research and then on their application to teaching and learning in their Chinese program at Palacký University Olomouc.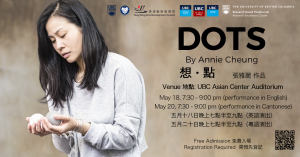 Written and performed by Annie Cheung, DOTS is her first solo Self-Revelatory performance. Established by the pioneering American drama therapist Professor Renée Emunah, this genre of theatre uses real life experiences of the performer as materials for creation and merges drama therapy and theatre. Teetering dangerously between tragedy and comedy, with brutal honesty and humour, […]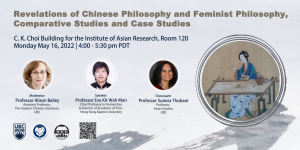 This lecture by Prof. Eva Kit Wah Man will start with personal notes before theoretical discussion, which format confirms her beliefs that the real drive to philosophy and art is better to be concrete, existential, connecting to people, with emotion and they should address to real life issues. The theoretical discussion will start from some […]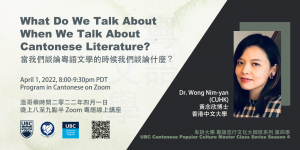 Program in Cantonese on Zoom. 粵語講座於網上以 ZOOM 形式舉行。 Speaker: Dr. Wong Nim-yan (CUHK) 講者:黃念欣博士(香港中文大學)。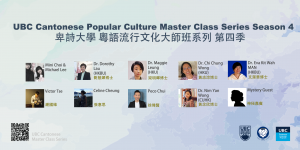 The Cantonese Popular Culture Master Class Series Season 4 includes guest speakers from Hong Kong and Canada discussing topics on music, film, fashion, multimedia, theatre, TV, language movement, etc. Please stay tuned for more details. 粵語流行文化大師班第四季現正進行中。來自香港與加拿大嘅多位演講嘉賓將會分享音樂、電影、時裝、媒體、電視、戲劇、文學運動等多個主題。更多詳情將會陸續公布。

  My Generation, My Love: A Multimedia Contest 《我的年代、我的愛情》徵文、獨白及短片創作比賽 Co-organized by Dramaone and UBC Department of Asian Studies Supported by the Hong Kong Economic and Trade Office (Toronto) Dramaone一劇場與卑詩大學亞洲研究學系合辦 香港駐多倫多經濟貿易辦事處全力支持   Tales of romantic love from your generation are best told by YOU. Channel your feelings and values of love through three different media formats. […]