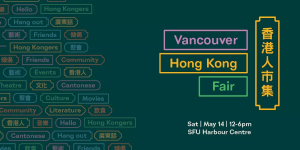 The UBC Cantonese Language Program will have a booth with games and prizes at the inaugural Vancouver Hong Kong Fair on May 14. 卑詩大學粵語課程將會參加5月14日嘅首屆溫哥華「香港人市集」。屆時喺攤位將會有遊戲同獎品。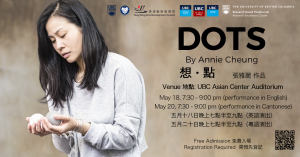 Written and performed by Annie Cheung, DOTS is her first solo Self-Revelatory performance. Established by the pioneering American drama therapist Professor Renée Emunah, this genre of theatre uses real life experiences of the performer as materials for creation and merges drama therapy and theatre. Teetering dangerously between tragedy and comedy, with brutal honesty and humour, […]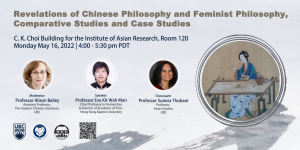 This lecture by Prof. Eva Kit Wah Man will start with personal notes before theoretical discussion, which format confirms her beliefs that the real drive to philosophy and art is better to be concrete, existential, connecting to people, with emotion and they should address to real life issues. The theoretical discussion will start from some […]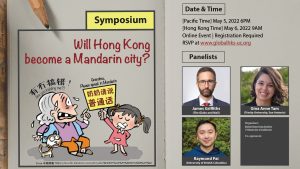 Online Event on Zoom hosted by Global Hong Kong Studies – University of California. Featuring Lecturer Raymond Pai, James Griffith of The Globe and Mail, and Dr. Gina Tam of Trinity University. In this symposium, a panel of experts discusses the past, present and future of Cantonese in Hong Kong.

It's UBC Giving Day on April 6, a 24-hour giving challenge that will bring donors, alumni, faculty, staff and friends together to support YOU.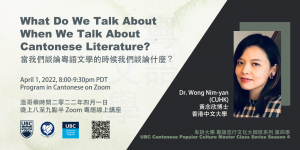 Program in Cantonese on Zoom. 粵語講座於網上以 ZOOM 形式舉行。 Speaker: Dr. Wong Nim-yan (CUHK) 講者:黃念欣博士(香港中文大學)。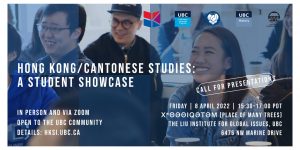 Friday, 8 April 2022, 15:30–17:00 PDT Hong Kong/Cantonese Studies: A Student Showcase. In person/via Zoom Open to the UBC community. Whether you would like to share with your fellow students and enthusiastic faculty members—in 3 minutes, or slightly longer for a video—your awesome Hong Kong/Cantonese-related projects or just want to sit back and enjoy, come […]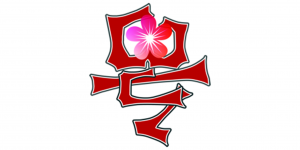 WICL-6 https://u.osu.edu/wicl/wicl-6/ The 6th Workshop on Innovations in Cantonese Linguistics (WICL-6) will take place as a virtual conference via Zoom on 27-28 May 2022 (EDT) , to be hosted by The Ohio State University, Columbus, Ohio, U.S.A. As in the case of WICL-5, which held virtually at OSU in April 2020 due to the pandemic, […]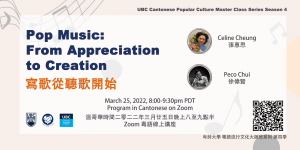 Program in Cantonese on Zoom. 粵語講座於網上以 ZOOM 形式舉行。 Speakers: Celine Cheung, Peco Chui. 講者: 張惠思,徐偉賢。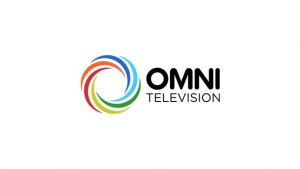 OMNI Cantonese 訪問黃志淙博士,介紹UBC粵語流行文化大師班講座。Omni Cantonese's interview with Dr. WONG Chi Chung, featuring the UBC Cantonese Masterclass event.